The Vatican is another country, literally. So it definitely deserves its own story page…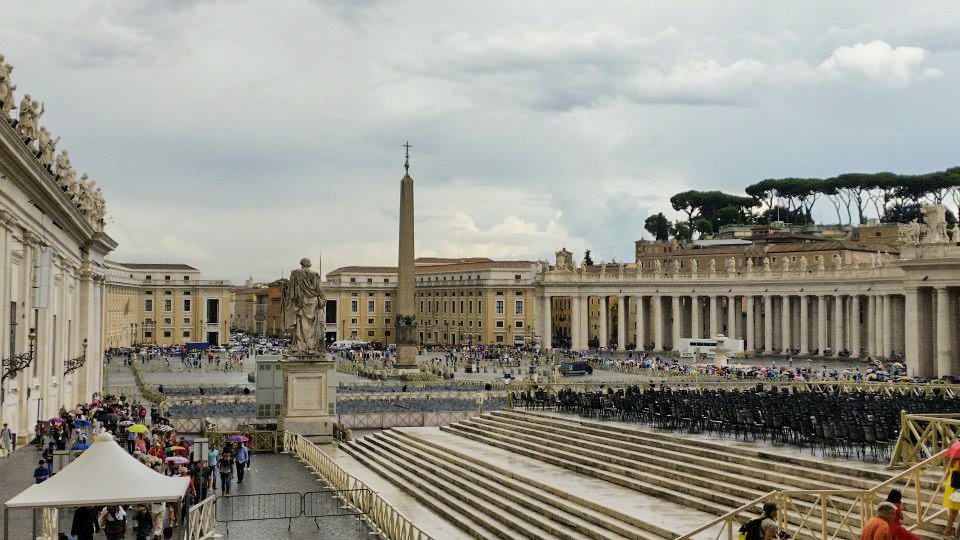 The Vatican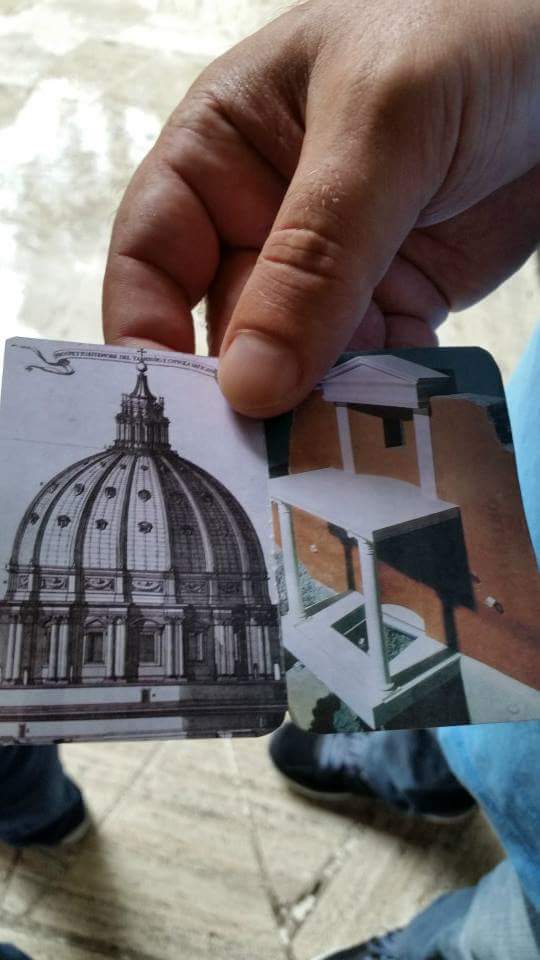 To some people, the Vatican is just another part of their European itinerary. To those with no historical nor religious  context, a curiosity. To me, it is a pilgrimage… A realization of a young girls' once ambitious pursuit.
I have heard a lot of stories about this smallest independent country from the lips of historians and from people who have greatly influenced the person I have become. No wonder there was always that perpetual longing to see it.
To actually step into its premises was so surreal. I had to keep pinching myself to remind me that it was actually happening…
Into the Halls
We started into a hall filled with sculptures. It showcased Rome's early periodic era where pagan deities from the Greek and Roman mythology are in full display.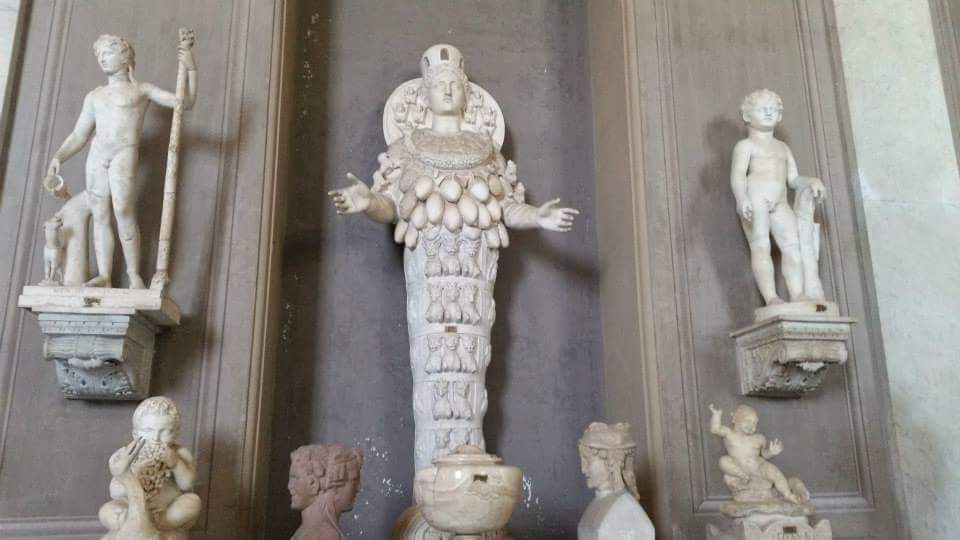 Then into a hall of maps that demonstrated the Romans' early cartographic skills. These tapestries were the MapQuest of Ancient Rome. Although the Greeks historically would contest that they were better. (But, that's another story to explore!)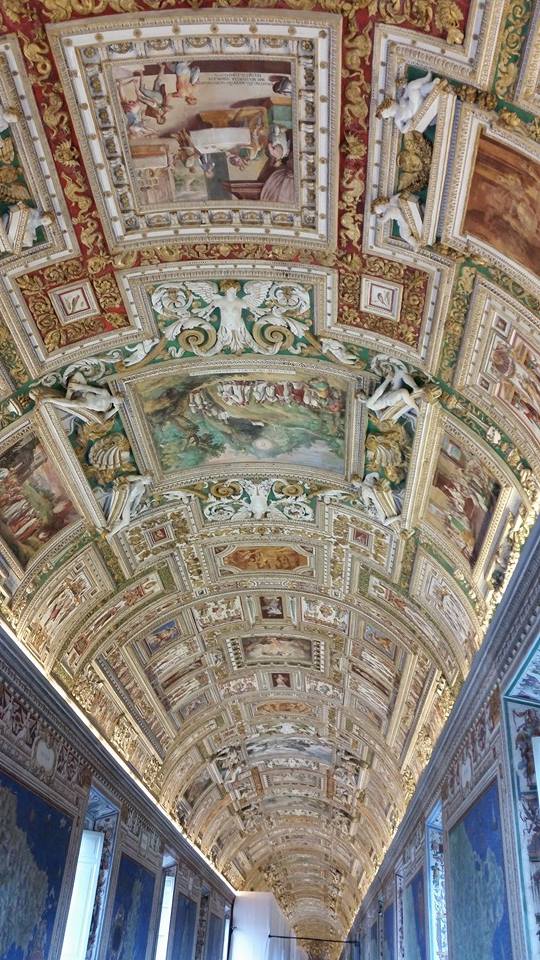 Our tour guide, Claudia (Walks of Italy) was very attentive and knowledgeable. She tried to balance our intellectual inquisitions as well as our wandering  eyes. With it's 1400 rooms, the Vatican is a massive property that holds some of the world's most priceless irreplaceable masterpieces. We needed time to take it all in. There was so much to see but so little time.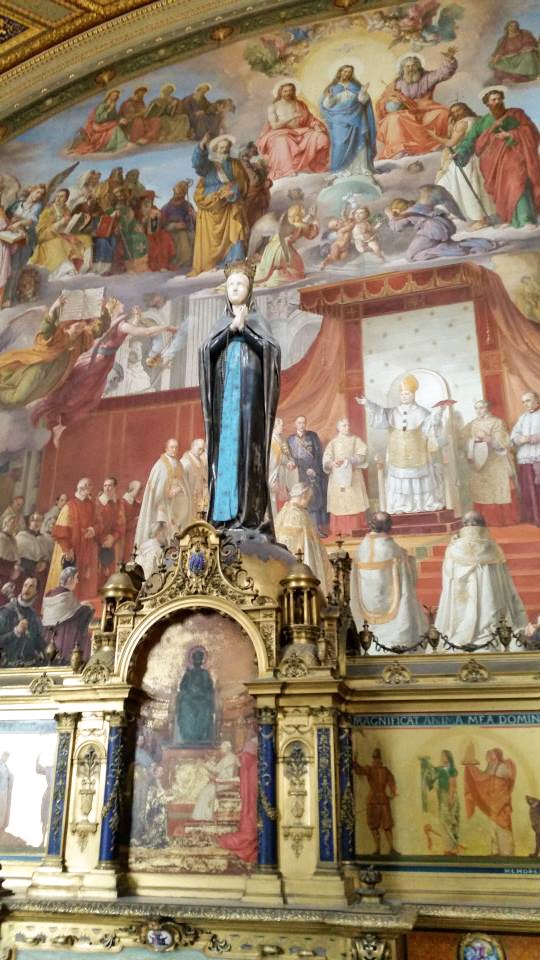 I have to admit, some of the historical references escaped our ears. The vastness and the array of displays can overwhelm the senses. Plus, there was a massive influx of cruise crowds that made it a little difficult to navigate through the hallways.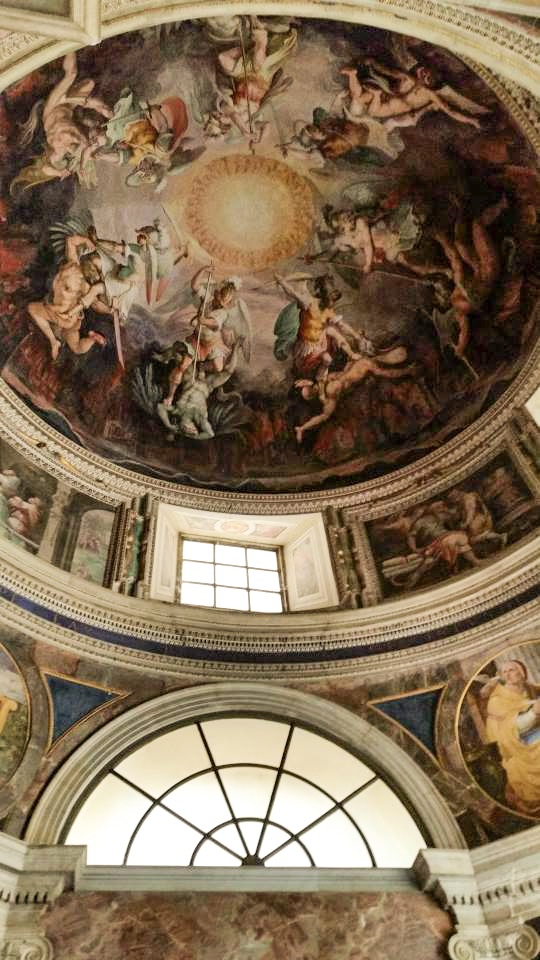 Then into rooms filled with exquisite paintings…We looked up, we moved forward and we glanced sideward to admire displays of magnificent artistry. Then suddenly we came to a stop…
Lo and behold, we were inside the most beautiful room in the world!
The Sistine Chapel
The long wait has come. It was unbelievable how dreams can transition into vivid reality. My grandmother's description of this chapel was spine-tingly true! What was even more incredible was the fact that my grandmother has never stepped into this room before! It was definitely the magic of dreaming that brought me here.
This impressive ceiling was the ultimate byproduct of Michelangelo's brilliance. It is a collection of frescoes that portrayed varied Biblical scenes. The most notable was the "Creation of Adam" which undoubtedly gained its fame for a reason.
History books reveal that Michelangelo was primarily a sculpture, not a painter. The Sistine ceiling was his first painting gig. Raphael, the most sought painter during that time, purposely declined this commission so it will fall onto Michelangelo's lap.
Despite his infamous countless whining for being trapped in a ceiling, the result was a Magnum opus  that proved to be Michelangelo's biggest break as a painter. Perhaps, the ongoing rivalry with Raphael motivated Michelangelo to prove his nemesis wrong. These sculptor like frescos will go down in history as one of the best work of art by a Renaissance artist for all time. Michelangelo surely had the last laugh.
Claudia highlighted the most important elements to look for before we entered the room for conversations or even soft chatters were strictly prohibited inside. There was also a dress code and a photography ban.
The Last Judgement on the altar wall was equally impressive and entertaining. This was done decades after the completion of the ceiling frescos. Michelangelo had his fair share of controversies related to his depictions that involved nudity. It was frowned upon by many righteous critics. Most notably, the Pontiffs' own Master of Ceremonies. In retribution, Michelangelo painted this detractor's face as the god of the underworld with a snake biting off his private parts. Despite his many eccentricities, Michelangelo definitely had a sense of humor!
The Pieta
The last part of our tour was the St Peter's Basilica where the Pieta welcomes guests on the right entrance.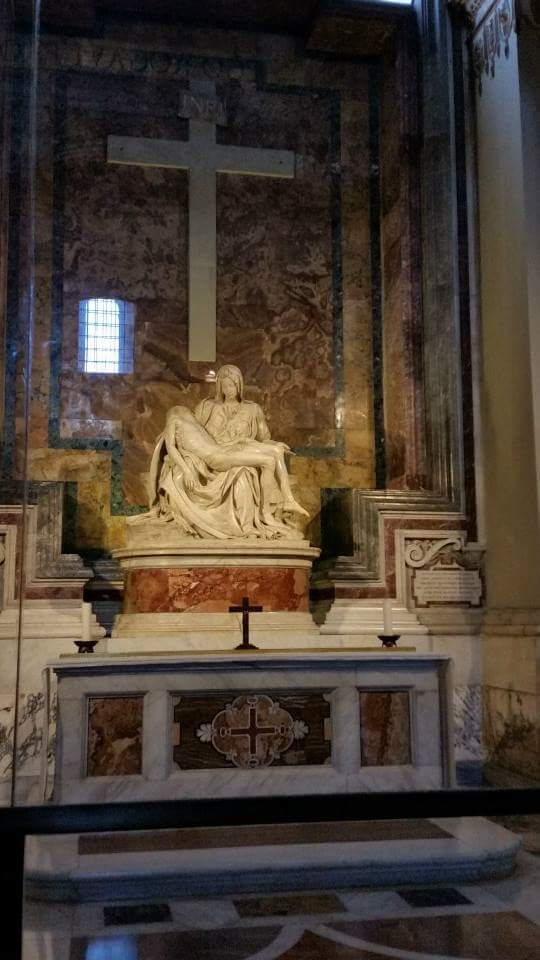 This sculpture, also by Michelangelo was accomplished during his younger years. This masterpiece has captured the eyes of so many: the past, the present, the future. It is an incredible piece of art that exemplifies man's pursuit for perfection. Michelangelo's masterful execution of this cold slab of marble captured a mothers' s sorrowful expression from losing her only son. The life-like anatomical rendition of Jesus has also inspired innumerable would-be sculptures to this day.
The St. Peter's Basilica
As Catholics, my husband and I have been to many different Churches and Cathedrals but this basilica was unparalleled. This was the Church of all Churches.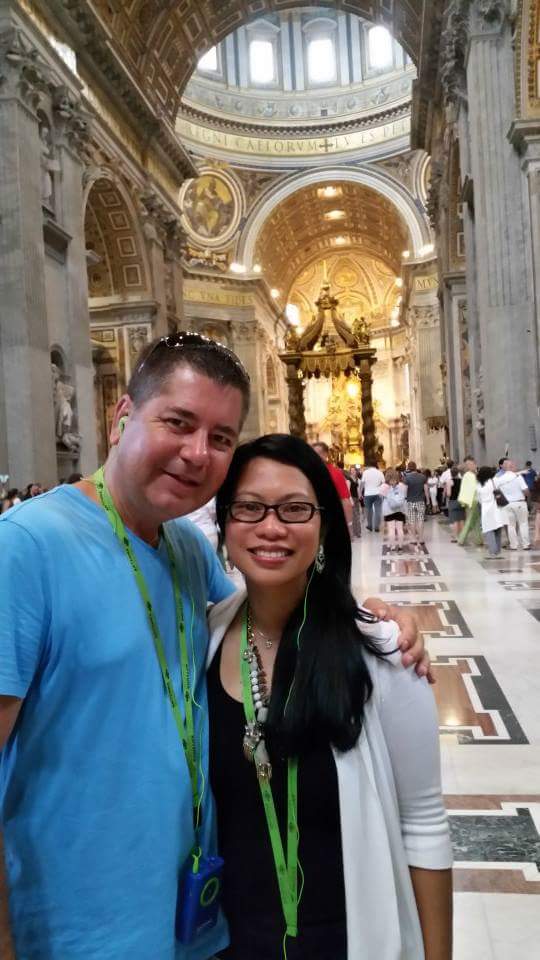 It was not so much about the impressive architecture nor the breath taking display of the finest workmanship known to mankind but what it represented for us. Sharing the same faith, this sanctuary created a sense of serenity and an elevating feeling that words cannot fully describe.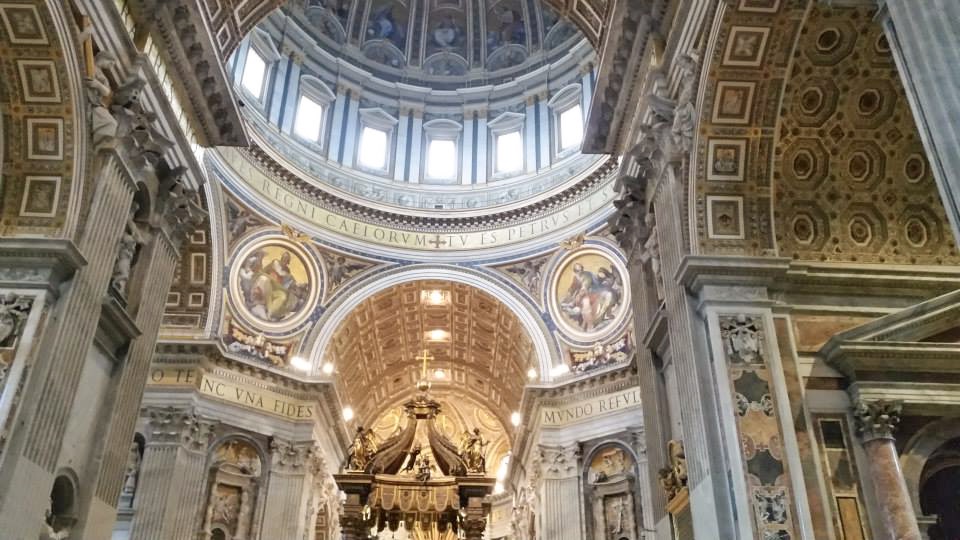 The Cupola
Although not a widely publicize itinerary, the cupola of the St Peters' basilica is a definite must see. We learned about this insider secret through a co-worker who used to work in the Vatican for many years.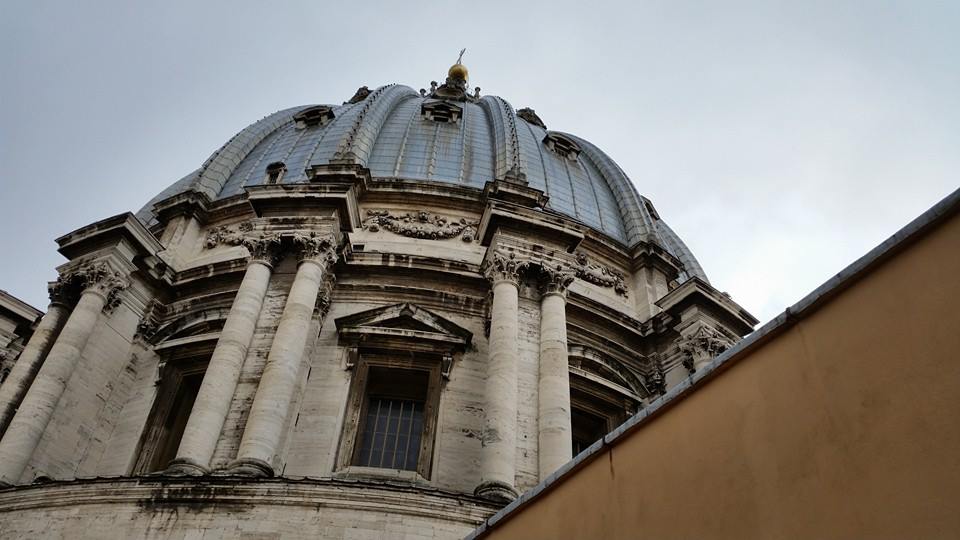 It is the dome-like structure that dominates the skyline of Rome. It was also designed by Michelangelo who despite his longevity did not see it's full fruition. This was one of his last Papal commission during his retirement days. One of his pupils carried on his unfinished work. To date this structure had been an architectural inspiration for other prominent buildings like the US Capitol.
To get to the top was a challenging feat.
For those who are athletic, you can chose to climb all the 551 steps. How's that for a good cardio work-out? Or there was also an elevator option that can save you 320 steps. It was at the end part of our trip and our stamina was wearing out so we opted to take the lift, climbed the rest of the steps up but walked all the steps down. Counting those steps was so much fun!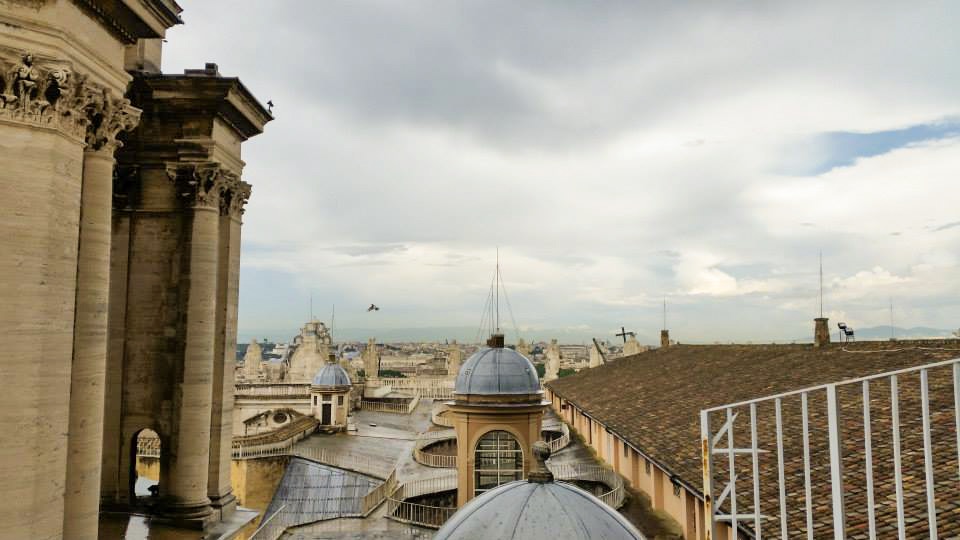 Despite the exhaustion setting in, the reward of seeing the most beautiful views of The Basilica was worth it.The overcast and downpour, did not take away the magnificence of the Roman scenery. It was incredibly stunning.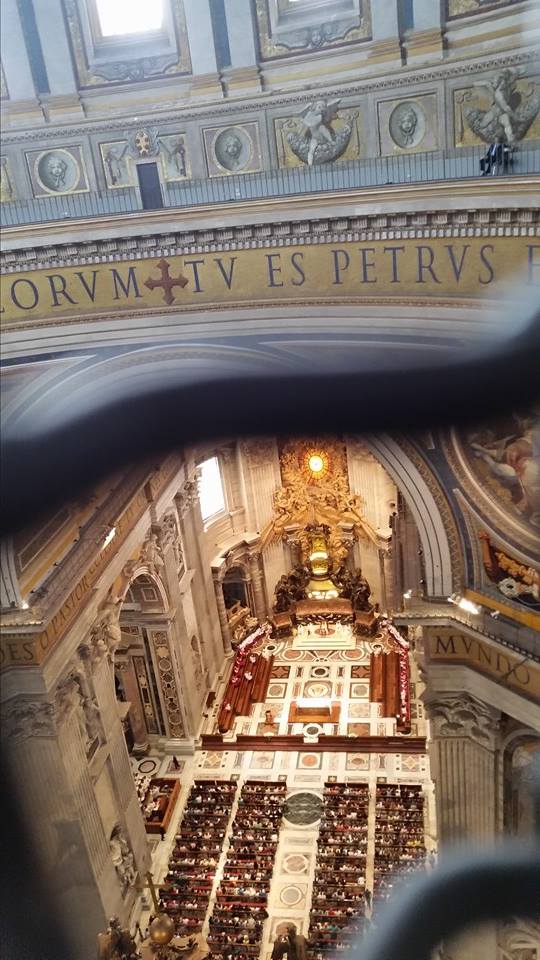 Inside, you can see the magnificent view of the main altar and may even have a glimpse of the Cardinal or the Pope. Our luck ran out that day for we did not get there in time for the Papal mass but we viewed it as an opportunity. A very good excuse to come back again in the near future!
The St Peter's Square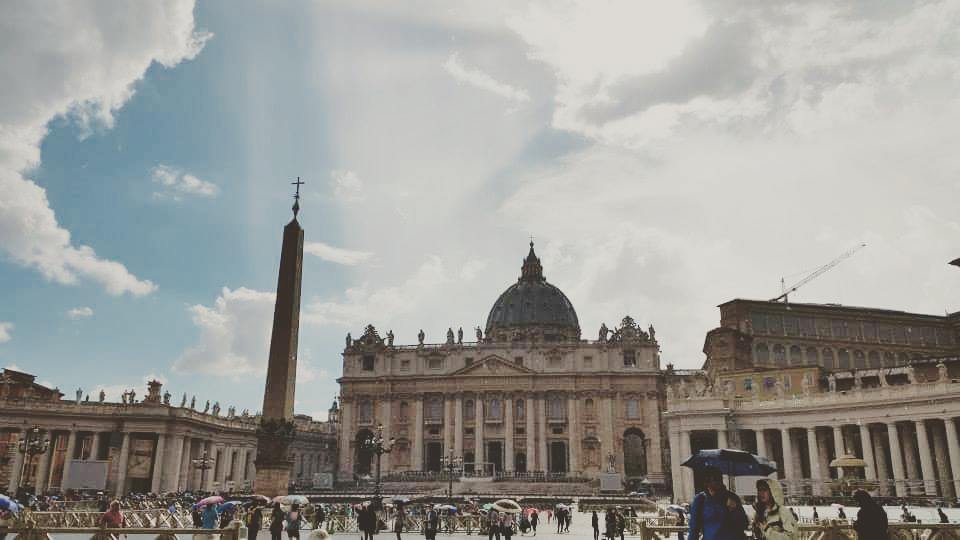 This expansive arena has been the center of most Episcopalian celebrations of the Roman Catholic Church. Thousands of faithful have gathered here on momentous occasions like the conclaves' announcement of a new Pope or the canonization of Saints. Another Bernini Obelisk stood in the center of this wide open space of grandeur.
Our Local Connection
We knew that exploring Rome in 12 hours was a challenge but Claudia ( Walks of Italy ) managed our time at our own pace. We did not feel hurried nor overwhelmed. She took us to the unpopular short-cuts that made it easier to navigate and avoid the crowds. It was very efficient and saved us more time to explore.
With her knowledge and a plethora of skills ( she can empty a crowded place for a photo op), she was not just our guide but a connoisseur for all things Roman! At the end of the day, hiring a private guide was the wisest decision we've made.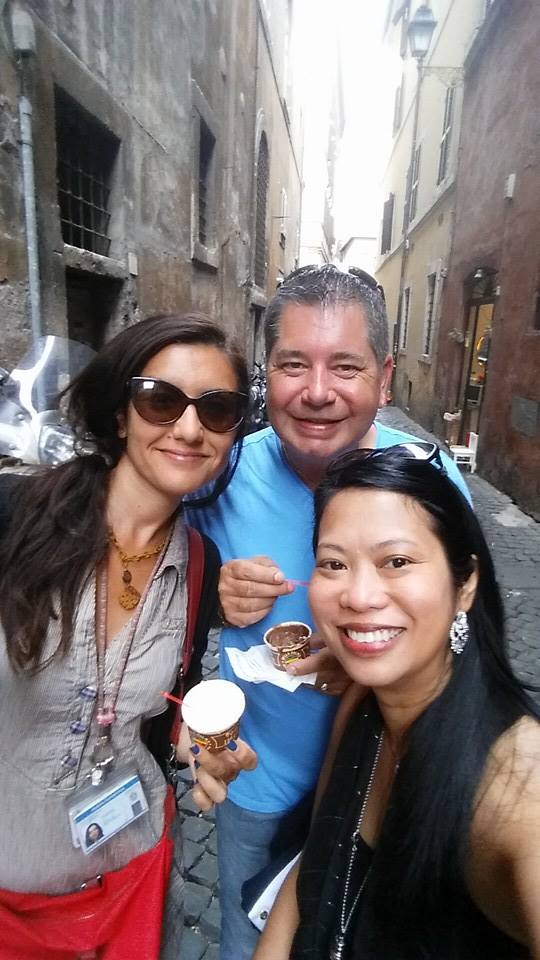 The Epilogue
There is an old adage that says, it takes more than one lifetime to grasp the enchantment of Rome.
This visit was our introduction. A first of hopefully, many more. There was so much history to see and learn that this trip was merely a scratch on the surface.
Rome was no longer an elusive vision. It has become a tangible commitment that we vowed to cultivate until we stop by again.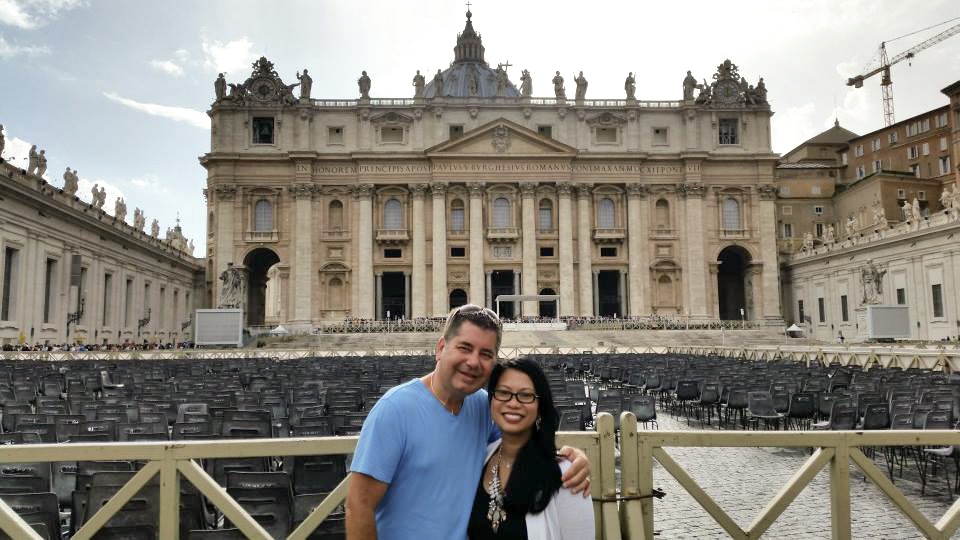 Disclaimer: This article is intended to amuse. The opinions are solely mine/ours. In case you're itching to say something, please let it all out! I'm all ears...